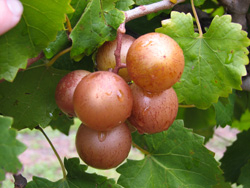 Photo courtesy Connie Fisk

We are a third generation fruit, nut and berry farm specializing in Muscadines. We are very proud of our heritage with the Muscadine Grape. It dates back to 1934 when our grandfather, Grady Ison, planted the first muscadine vine on our farm. Since that time the Ison family has enjoyed a long relationship with the muscadine.
In the late 1960's, Our father, Bill Ison along with Dr. B.O. Fry began breeding muscadines in order to improve size, taste and production.
From the fruits of their labor we now have 22 patented varieties of muscadines! These varieties are considered the best for commercial vineyards, u-pick operations, and the backyard hobbyist.
We began hosting school field trips in the Fall of 1997. It was our goal to offer a fun educational field trip that was unrushed and not overbooked. As you begin the hayride if you will look just beyond the lake you will see 40 acres of rolling muscadine vineyards. We harvest the fruit from late August until mid October and it is available for purchase at our roadside stand or in area stores.
We welcome you to our farm! Thank you for coming!
Visit us online at isons.com